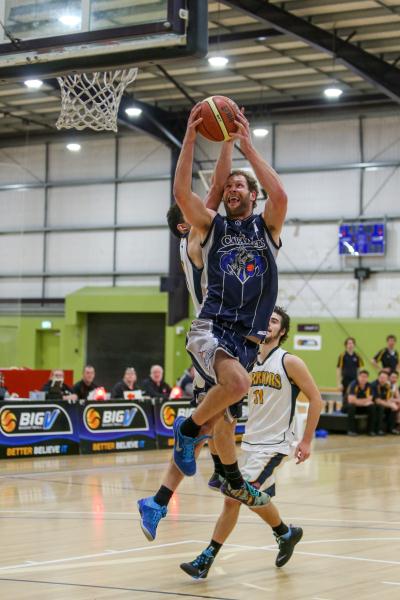 By RUSSELL BENNETT
DO NOT tell Casey Cavaliers Big V men's basketball coach Stewart Baird that this week's top-of-the-table clash with Shepparton is 'just another game' because, in his words, "that's rubbish".
"It's a huge test this week," he said.
"We haven't seen them since round one when we played them up there and they've improved immensely – they've added players and they've only had the two losses; the same as us.
"It's a huge night – it's potentially season-defining. Depending on how other games fall, this one could see us go to first or even to fourth in a couple of weeks if things don't go our way."
But if the Cavs continue to show the same kind of form they produced on the weekend away to Pakenham, they'll undoubtedly be in a rock-solid position come play-off time.
Casey was nothing short of sensational in their first local derby of the year against the Warriors, storming to a 98-76 win in what Baird described as "close to our best game this season so far".
The Cavs led by 15 points at the first change before the margin was cut to just nine after the Warriors briefly grabbed the momentum.
Yet, typical of Pakenham's night, the Warriors turned the ball over on a fastbreak only to watch the Cavs convert an and-one play at the other end. By the half the margin had exploded out to 26 points.
Warriors coach Ryan Rogers took a stand by benching his starters for the vast majority of the second half, while Casey stars Matt Witherden (10 points, 10 rebounds and 4 assists), Dean Johnson (9 points and 10 rebounds) and Matt Pebole (20 points, 7 rebounds and 5 assists) consistently found easy buckets in the paint.
The Cavs were making the extra pass and finding the open man at will. And in the paint and on the fast-break they were simply monstering their closest local rivals. Only Lee Belton (14 points and 6 rebounds in just 12 minutes) and Bill Winder (12 points and 7 rebounds) found open space with any sort of regularity for the Warriors. Baird was full of praise for Bevan Camilleri and Ash Szalek, who both came off the bench with great effect.
"Bev would start for most teams – he was great," Baird said.
"He's just clever at getting to the right spots."
Camilleri finished with more points (18) to his name than minutes (14) on Saturday, while Szalek also made a strong impact.
The Cavs will need to rely on that depth if they're to secure another win over the Gators – and their star guard Matt Bartlett – this Saturday night.
He's averaging close to 25 points per game and is fresh off a 28-point showing against the Bushrangers.
"We'll mix it up against them – show them a bit of zone defense and try to make Matty (Bartlett) dribble the ball, rather than just catch and shoot," Baird said.
"That might only limit him a small amount, but every little bit helps."
The Fortress, otherwise known as the Casey Basketball Stadium, will host a massive triple-header this Saturday from 4.30pm when the Casey Youth League side attempts to defend top spot against Craigieburn. The Big V battles commence from 6.30 with the Lady Cavs facing the Shepparton women's side, followed by the huge blockbuster between Baird's Cavaliers and the Gators.