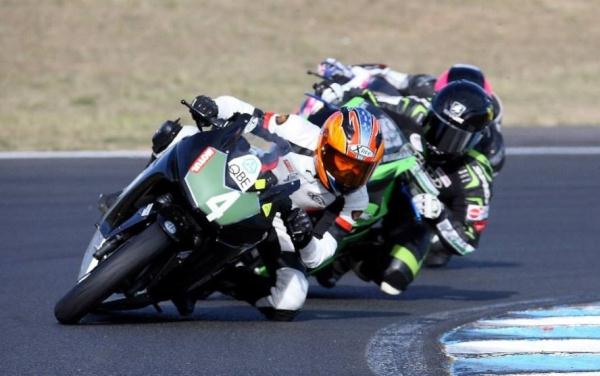 By RUSSELL BENNETT
FIRST there was Wayne Gardner, then Mick Doohan and Casey Stoner … and Cranbourne young gun Tom Bramich could be next.
The 16-year-old motorbike racer is already on the verge of big things in the grand prix world and he's only in his second year in the sport.
Tom, in Year 11 at Beaconhills College, started racing last season and has already torn up some of the country's most famous racetracks – including Eastern Creek, Queensland Raceway, Phillip Island and Winton.
Tom dominated the 2013 Pirelli Sprint series – a domestic competition including riders from across Victoria in South Australia. In fact, to say he dominated is a gross understatement.
He won every single race he completed – 22 races of the 24 on the competition's calendar.
He also competed in the 450GP class of the Victorian Road Racing Championships.
Tom hopes to soon line up in the Moto 3 grid – two tiers below some of the biggest names in the racing world, including Valentino Rossi and Jorge Lorenzo.
Though he has been racing for just two years, he has been around bikes all his life and can't remember missing a Phillip Island Moto GP race.
Asked what he liked most about racing, his answer was straightforward: "I love pushing my bike to the limit – trying to be the best, and the challenge of that".
The bike-obsessed youngster said racing was his whole life.
Though opportunities are starting to come his way, and doors are beginning to open into the fast-paced, action-packed world of grand prix racing, Tom is a realist.
He knows how cut-throat the industry is. Racers need a huge amount of corporate backing to find their way into the most competitive teams.
But it's hard to ignore a talent as obvious as Tom's.
At one stage or another, he has held the track records at Broadfoard, Eastern Creek and Queensland Raceway.
While Tom's mates are supportive of him and will always be there, they don't necessarily understand the racing brotherhood and the closeness of that community.
"You're either into it, or you're not," he said simply.
Four other Bramich boys are involved too – including Tom's dad Darren, and younger brothers Jack (15), Mitch (14) and Ben (12).
In a Australian Superbike race, the lead can change dozens of times per lap and there are roughly eight bikes within a second of each other at any one time.
So it goes without saying, arguably the best attributes for a rider to have – apart from sheer speed – are a level head and great deal of common sense.
Tom has both in spades and could yet be destined for greatness. He woudn't be where he is already without the support of arguably his biggest backer outside of his family – Ron Angel – and other sponsors including Tingate Racing, Safety First Linemarking and Melbourne's First Fleet Truck Maintenance.