By Nick Creely
It's quite ironic to think that if Ryder Medal smokey Brendan Rose can capture Victorian Premier Cricket's highest accolade, he won't even be the first person with that surname at Casey-South Melbourne to win the award.
Back in 2011/12, the 25-year-old's cousin Clive, a current domestic cricketer based in Tasmania, also won the award after a stellar season with the Swans – funnily enough, the left-arm spinning all-rounder was not among the heavy favourites to even win the award that season.
In fact there are a lot of similarities between the two, who both possess unique cricketing qualities but unwavering commitment to their team.
"People have brought up the Ryder Medal to me a few times, but it's not one of my focuses at the moment – I really want to play finals with the boys, having success is much more important and it's what I'm desperate for," Rose told the News.
Sitting equal-second on the Victorian Premier Cricket wicket-tally this current season with 30 majors next to his name, the bustling quick has epitomised the rise of Casey-South Melbourne, in what has been a stunning if not surprising season from the club out of Casey Fields.
Rose started the season with a string of solid performances, taking eight wickets in his first five-matches, before encountering a lean patch just before Christmas, taking just five wickets in six matches.
But since returning from the break, he has risen to a new level, capturing 17 wickets in his last three matches, the most in the competition, which included match-winning hauls of 5/75 against Fitzroy-Doncaster and 5/40 against Greenvale.
But it wasn't just the manner of taking wickets, it was the way Rose sent the ball down to the batsmen in those particular games that was impressive – bounce, nagging line and length and an ability to extract just enough movement off the pitch – he also has a knack of making handy runs when his team requires it.
He said going back to the basics helped him restore his early-season form, and heaped praise on his coaches Brian Keogh and Prabath Nissanka for giving him the opportunity to bounce back.
"I just went back to hitting the top-of-off, and hitting the pitch hard – I think now my action is right and my fitness has got better which has helped me," he said.
"Brian spoke to me after the Footscray game, and I didn't have a great game – I thought I was letting the team down, but Brian has a funny knack of inspiring blokes and giving them confidence – he is so inspirational for us and gives us motivation, not many coaches are like that, he's rare.
"Prabath has been going under the radar a little bit, but he has helped us so much – we have all come a long way as a group but he's done a lot for not just me, but Lamby (Nathan Lambden), Leigh Diston and Jacko Fry, who is starting to really develop nicely."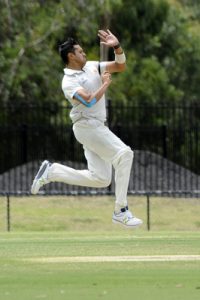 Last year, Rose took 22 wickets in 15 matches at an average of 24.2, while the year before he struggled to stay in the side, switching between grades regularly and taking just seven wickets in the top-grade – this has been a pattern for the last few years for the big quick, who is just now starting to flourish after years of being groomed at the top-level.
Rose has a clear team-orientated focus now – pushing his Swans into the finals, and said that the camaraderie will push the club to greater heights.
"We are worried about us only – individual performances are great obviously but team performance is what wins matches," he said.
"That's what has made the club successful, that belief that seems to continue to grow with every game – we're all good mates and we push one another – the growth of guys like Luke Manders and Jordy Wyatt is just great to see.
"We thought we'd give this season a red-hot crack – we got a lot of confidence from the last few games last year – we are probably a year ahead to be honest, and we're a really good chance now, so it's really exciting."
But one way or another, a future in cricket beckons for one of the competition's most improved, and a Ryder Medal could push the paceman to fulfil a lifelong dream.
"Cricket has always been a dream for me and something I've always aspired to – I want to let things flow and if it happens it happens – my main goal is to perform for Casey and if I get a Futures call-up that'd be great," he said.
The Swans will look to cement their place in the finals on Saturday, when they defend 356 against Kingston Hawthorn.