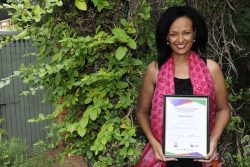 By Victoria Stone-Meadows
Women's Health in the South East (WHISE) is calling for nominations for outstanding women in the Southern Metropolitan Region for their annual International Women's Day awards.
WHISE is a not for profit organisation that provides health information, health promotion and education to the female community and health professionals.
Each year the organisation acknowledges the valuable work of other females in the community on International Women's Day, with an award of recognition.
Last year Wudad Salim from Narre Warren South was awarded in the inspirational women category for her work as founder of the African Australian Women's Health Advocacy Group.
Ms Salim moved to Australia from Ethiopia 24 years ago and has dedicated her time to improving the health and well-being of women in Melbourne of African backgrounds.
She said the African Australian Women's Health Advocacy Group was involved in improving the health of African women in many ways.
"We do advocacy and engage communities, we raise awareness around issues such as Family Violence and eradicating harmful cultures such as female circumcision," she said.
"We also partner with organisations that provide services for people of African heritage."
Ms Salim said receiving the International Women's Day award from WHISE changed the way her and her team operated.
"It's the most rewarding thing – it boosted our profile and energy to contribute more for the community we live in," she said.
"It has given us motivation not to stop, but to keep going."
Ms Salim said she would encourage others to go for the award, as it not only recognised the hard work of female volunteers which could be a thankless job at times.
"I would encourage people to go for this award, definitely," she said.
"It's recognition of volunteer work and acknowledges that people work really hard and sometimes it looks like there is no end and it just keeps going.
"Sometimes it is really hard to see the fruit of it but this award confirms and affirms you are doing okay and to keep going."
This year, WHISE and parent communities will be acknowledging the contributions of women 55 and over in the categories of inspirational Aboriginal Elder, an inspirational woman with a disability, and an inspirational cultural leader.
Nominations close on Friday, 17 February and the award ceremony will be held on Wednesday, 8 March at Bentleigh Secondary College.
To nominate or to register for the event, visit the WHISE website at www.whise.org.au.