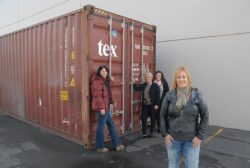 By Victoria Stone-Meadows
The founder of a charity in Berwick that donates essential supplies to orphans overseas has slammed the national charity registrar after having their charity status revoked last month.
Founder of the Chance Foundation Mandi Herauville said the revocation of the organisation's charitable status came as a shock.
"It was with a great deal of sadness and stress that our charity status was suddenly revoked," she said.
"It caused extremely high levels of stress for our founder and the committee, however there were exceptional circumstances which mitigated the completion of the reporting in the past 12 months."
The Chance Foundation was one of four Casey based charities among the 590 charities across Australia that had their status as a charitable organisation revoked.
Green Renters Inc in Cranbourne East, the Afghan Women Welfare Foundation in Hampton Park and the El Redentor Evangelical Church in Narre Warren also had their status as a charitable organisation revoked on Tuesday 28 March.
The charities had their statuses revoked by the Australian Charities and Not-for-profits Commission (ACNC) after failing to submit their annual reports two years running.
"As the national charity regulator, it is important that we provide the Australian community with accurate and up-to-date information on the Charity Register," ACNC Commissioner Susan Pascoe said.
"This information is largely collected from the Annual Information Statements required from charities to meet their basic requirements to retain charitable status.
"The organisations that have lost their charity status were warned multiple times to submit their outstanding reports."
Ms Herauville said she wrote to and called the ACNC many times to explain that the charity had experienced hardships recently that had hindered its ability to submit its annual information statement.
"They (the ACNC) stated that these were not considered valid reasons to grant any extension as they were neither "rare" nor "exceptional", and with just 30 days noticed they revoked our status, further increasing the stress and worry of our committee."
The Chance Foundation decided not to reapply for charitable status through the ACNC but will continue to operate.
Ms Herauville said the ACNC has not worked in the best interest of charities it represents.
"We feel that the ACNC have done us a major disservice with their impersonal attitude and lack of compassion, and that is what lies at the heart of charity work and philanthropy.
"We no longer see our association with them as positive," she said.
"It's bureaucracy at its most impersonal and we were dismissed without much consideration, so we chose, in turn, to dismiss them as an optional governing body for The Chance Foundation Inc."
Green Renters Inc the Afghan Women Welfare Foundation and the El Redentor Evangelical Church were contacted for comment but did not respond by the time the News went to press.