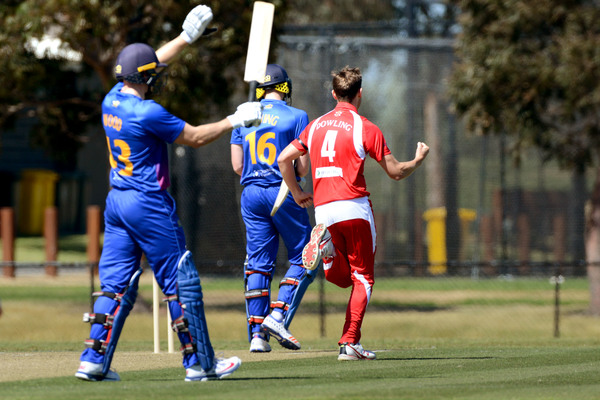 By Nick Creely
The new look Casey-South Melbourne – featuring four debutants – had an edge about them in Saturday's comfortable Victorian Premier Cricket over Frankston Peninsula at Casey Fields.
They resembled the 2016/17 version of themselves, a well-drilled side that has plenty of strings to their bow.
It was a slow deck on a glorious day to start the season, and the Heat wasted little time in winning the toss and batting.
Frankston openers Tom Ewing and Tom Wood started steadily and managed to squeeze out 40 runs in the opening 11 overs.
One of the Swans' other new recruits – seamer Josh Dowling (2/43) – got the ball talking and forced Ewing into a false stroke, with keeper Devin Pollock moving brilliantly, low to his left, to take a ripping catch.
Wood and Liam Tonkin (56) built a platform to launch a massive total from, and combined for 86 runs between them, but the Swans were well placed in the field and more importantly, bowled tight lengths and often cramped up the pair.
Tonkin eventually gave his wicket up to Dowling, with skipper Lachie Sperling taking a catch to leave the visitors 2/126.
Two stellar bits of glovework by Devin Pollock – resulting in the stumping of Chris Dew and Gordon Waterfall off Sperling saw the Swans take control, with the Swans suffocating the Heat and slowly bringing down the run rate.
Sperling, in particular was outstanding, finishing with 2/33 off his 10 overs, and was hard to play with his varieties and field placements.
Wood continued to build his innings but couldn't find a partner that was going to stick around long enough, and despite some majestic strokes and creativity, the Heat struggled to tick over the scoreboard.
Late spells by Lambden (3/36) – who bowled with venom and energy – and Maxwell (0/35) were particularly damaging, with the Heat unable to put the pair away.
In an entertaining final over, Lambden picked up two wickets in three balls and saw his last ball edged through third man for four, with the visitors having to settle for 7/203.
Debutants and new recruits Jared Maxwell (12) and Ryan Quirk (20) strode onto Casey Fields with formidable new ball pair Ben Ashkenazi and Nick Boland ready to take aim, and looked comfortable at the level immediately.
Similar to the Heat, the Swans struggled to find boundaries and were cautious, but managed to tick over the score to 38 before Aidan Wheeler picked up Maxwell.
Not long after, Quirk's stay at the crease came to an end after dynamic all-rounder Brodie Symons (3/35) got through the gate, and after Michael Wallace also fell victim to Symons, it seemed like the Swans were falling into old habits.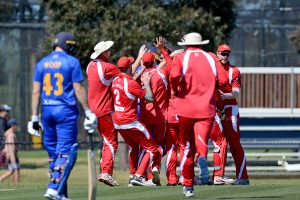 Skipper Lachie Sperling (69) and the dangerous Jordan Wyatt (55) lifted their rating, at first weathering the storm and steadying the ship, and then accelerating.
The pair swiftly put on a match defining 107 run stand, with Sperling contributing three maximums and Wyatt one, and knew just when to pull the trigger or knock the ball around for single, and eventually the Swans crossed the Heat with four wickets and 11 balls to spare.
Sperling – who will step down to vice-captain with the arrival on Englishman Luke Wells –told the News that their ability to maintain control came down to their mental side of the game.
"(I'm) absolutely delighted with the boys' intent and composure through the key moments," he said.
"I guess that's come from a heavy focus from Jewelly (Nick Jewell) about the mental side of the game and being able to perform when these moments arise in a game."
Set up by building dot ball pressure with the ball, Sperling praised his bowling group for setting the tone.
"I thought the bowlers did a fantastic job right throughout the innings, particularly when Tonkin and Wood were putting together a really good partnership," he said.
"They just stuck to their plans and eventually got the rewards."
In what is an important sign for the Swans, spearhead Nathan Lambden looked like he is set for a massive year after bowling with great energy and pace to snare three wickets, something not lost on Sperling.
"Lamby sets high standards for himself, and I thought that overall he bowled really, and to take three wickets at the end was really pleasing," he said.
"His energy feeds off to the rest of the team and I thought he lead the attack from the front. I hope he can continue his form and can attract some attention from the selectors to get another crack in the Futures League team at some stage this season."
The Swans will take on Prahran on Saturday and Fitzroy Doncaster on Sunday.
Casey-South Melbourne 6/207 (L.Sperling 69, J.Wyatt 55, B.Symons 3/39) defeated Frankston Peninsula 7/203 (T.Wood 96, L.Tonkin 56, N.Lambden 3/36, L.Sperling 2/33, J.Dowling 2/43).