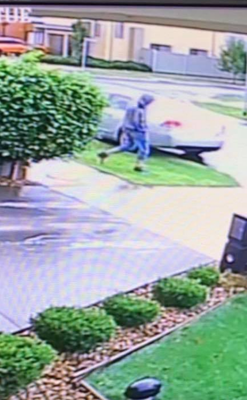 By Brendan Rees
A Cranbourne East man has told of his shock after intruders allegedly climbed through his roof and ransacked his home.
Adam Messina said he was left devastated when he came home from work on Tuesday 9 April to find his home "turned upside down."
According to Mr Messina, the intruders avoided his "massive dog" in the backyard by climbing onto his roof before forcing their way through the manhole.
During the raid, he says the bandits stole items of sentimental value including his grandfather's 24 carat gold necklace, rings and watches he had kept from his 21st birthday, as well as jewellery passed down from family generations.
"That's the main stuff I'm worried about; other stuff can be replaced," he said.
"They went through the whole house, every room, every cupboard, every draw.
"(They) flipped up my couch, even took TV remote controls; left the TV hanging on the wall, took a lot of jewellery, lap tops, iPads, Nikon camera with portrait lenses, a lot of power tools."
His beloved blue and white Honda motorbike worth about $13,000 was also taken from his garage during the raid.
Police spokeswoman Natalie Butler said it's believed two men travelling in a small white hatchback broke into the property about 7.30am.
They allegedly stole the motorbike with registration HRC11 which has yet to be located before leaving about 9.10am.
According to Mr Messina, CCTV footage from his neighbours captured men in the area walking towards his home between 7.45am and 9am.
"They came in through the roof and opened the roller door and the car's been reversed (into the garage) on the footage," Mr Messina said.
"They've taken the garage remote with them as well."
Mr Messina, a concreter, left for work about 6.20am and said the intruders were "extremely brazen" to break-in during daylight. "If I was on night shift I would've been coming home at that time," he said.
"I noticed when I pulled in that door was ajar connecting door to the house.
"Looks like a four door Corolla in the footage. It's not clear but you can clearly see they've come from Scullin Street and walked straight across the road straight into my house," he said.
Neighbour Shannon Marchant said she felt unsafe in her home: "We've ended up bolting our manhole up because anyone could just come in now; very scary."
Anyone with information is urged to contact Crime Stoppers on 1800 333 000 or submit a confidential report online at www.crimestoppersvic.com.au.