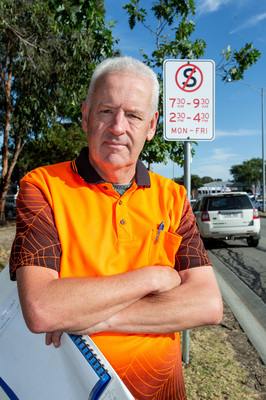 By Brendan Rees
A Lynbrook man has described Casey Council's installation of new 'clearer' parking signs on Kangan Drive in Berwick as a "knee-jerk reaction."
It comes after hundreds of commuters have been slugged parking fines in what they say are "unfair" and "confusing signs."
They also protested their angst at a Casey Council meeting on 22 January in which Council said it would introduce "doubling of the statutory signage."
Star News observed parking officers out in force on Wednesday 5 February issuing 11 parking infringement tickets.
Lynbrook resident Michael Drew, who was slapped with $161 parking infringement fine in January, says the new signs are clearer but council hasn't "done any homework" for the 38 parking bays.
"They didn't help people the other day but it's better – the more signage the better."
He says traffic may be congested in the mornings for about 15 minutes – "not the whole two hours."
"There's no way known they should have those signs up during the holidays."
He says the additional signs are a "knee-jerk reaction."
As it stands, the 'no stopping' restrictions operate from 7.30am – 9.30am and 2.30pm – 4.30pm, Monday to Friday. During other hours of the day, parking is restricted to two hours.
Mr Drew, who is contesting his ticket at court, also protested with a group of disgruntled commuters at the front of the council chambers at Bunjil Place on Saturday 2 February.
"People are coming in from country area; they do not understand the signs. People have no idea. Everyday there is a new lot of victims"
Council says it introduced the signs along Kangan Drive to improve traffic flow for vehicles approaching the Clyde Road intersection.
Nilo Qal of Narre Warren South, said her pregnant mother went for an ultrasound appointment at Casey Hospital on the 18 January when she received an infringement for failing obey a no parking sign.
"She didn't know English and she asked a couple of the ladies that went past asking," she said.
"She found it very unfair especially when she asked some of the people (if she could park)."
Marian Lomatch of Lyndhurst said she also received a parking fine saying it was "unfair" and commuters should be "given more leniency," and not come "back to hefty fines."