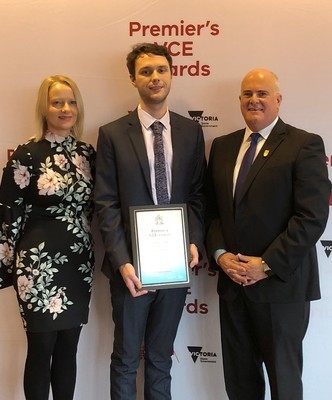 By Brendan Rees
An outstanding St Peter's College Cranbourne student has been recognised for scoring a top mark in a VCE subject last year.
Zane Hyde received the Premier's VCE High Achiever award for his perfect score of 50 in biology during a special ceremony at the Melbourne Convention and Exhibition Centre on Tuesday, 15 May.
More than a thousand people attended the ceremony with the Minister for Education James Merlino presenting the awards to the high-achieving VCE students of 2017 and congratulated them on their hard work.
St Peter's College Chris Black praised Zane on his success, who also took out dux for the school by achieving an ATAR score of 99.4.
"Zane was an exemplary student at St. Peter's College, who from his early years always ensured he applied himself to the very best of his ability," he said.
"His Year 9 teachers commented on the need for extension, and loved that Zane challenged and asked questions of them."
Mr Black said despite Zane's natural talent and extreme work ethic, he remained an "extremely humble and modest young man.
"Zane epitomises the college vision for active learning. He was self-motivated, always working well with his teachers, compelling his teachers to read up and study harder as to be able to answer Zane's question".
Zane was one of seven students in the state to achieve a perfect 50 in biology.
Mr Merlino said: "I congratulate these top-performing VCE students who, with support from their school communities, friends and families, have worked hard and excelled in their studies."