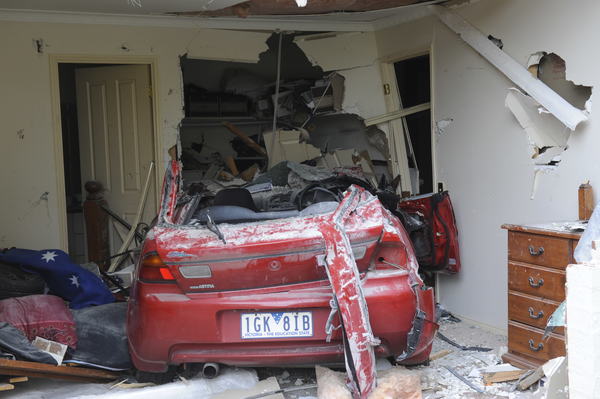 By Brendan Rees and Cam Lucadou-Wells
A Cranbourne North man is in a stable condition after ploughing his car into a family home in Narre Warren South on Monday April 9.
Police allege the driver, a man aged in 40s, lost control of his car along The Promenade before crashing into an unoccupied master bedroom shortly before 7.30am.
The man was trapped for a short time before being freed and taken to Dandenong hospital in a stable condition with chest injuries and grazes.
CCTV has emerged from a neighbour's home, showing a Mazda sedan hitting the curb and taking out part of a fence before launching into the air and coming to rest on the bed.
The owner of the house, Jamie Moroney has spoken of his shock saying he had left for work just minutes before the accident.
"My son rang me. He straight away freaked out because he wasn't sure that I'd left for work," he said.
His son was about to have breakfast in the kitchen but luckily not injured, he said.
Mr Moroney said he found the car sitting on top of his bed, adding the driver was incoherent and "didn't know what was going on".
"I just wanted to get the ignition off the car," he said. "The last thing I wanted was the car to catch fire."
"The roof was crashed down on top of him," he said.
"So they (emergency services) had to cut the roof off and then relieve the pressure on his legs to get him out."
Mr Moroney said the car took out two windows and caused extensive damage to the brick work.
"There's about two metres of damage on the front lawn and then he's gone through the air," he said.
"I've got a box hedge which is about close to two foot high and he hasn't touched it."
Mr Moroney said had it not been for his wife's roster she could have easily been killed.
"Normally my wife would be lying back in bed after I'd gone to work because she is a shift worker."
"There were a few stars lined up for us not to be in the house," he said. "There's amazing bit of damage."
Neighbour Chris Hyde heard the "whoosh" of a car as it "barrelled" down The Promenade apparently well above the 40 km/h speed limit.
"It hit the kerb, and hit the fence, then there was that sickening thud," he said.
"Even if there were rocks in the front yard, it wouldn't have stopped the car."
He said it was only six months ago that an out-of-control car veered over the kerb and crashed into the Moroney's brick letterbox.
Police will investigate the cause of the collision and conduct a licence review.
Any witnesses or anyone with information is urged to contact Crime Stoppers on 1800 333 000.
https://youtu.be/uYwPSYAgy7U