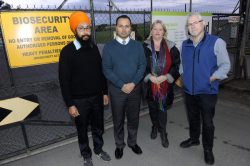 By Brendan Rees and Cam Lacadou-Wells
Fire crews responded to a blaze at a Hampton Park tip on Saturday 11 November.
At about 4.40pm Hampton Park and Hallam fire brigades were called to a timber fire that was "well alight" in a bunker at the Suez Recycling and Recovery Centre on Hallam Road.
Hallam Fire Station Senior Station Officer Greg Chapman said crews tried to stop the fire from spreading to other sections of the plant but a lack of water "hampered the initial strategy."
He said six 3000-litre tankers and additional pumpers were also called.
He said the tankers shuttled water from Hallam Road to the pumpers until a large diameter hose was set up from a hydrant on Hallam Road.
Mr Chapman said spot fires occurred on the site, with a wind change putting "heavy smoke" over Hampton Park.
"It remained in free burn within the bunker for another hour. We then had to extinguish a very hot fire for the next few hours."
He said three pumpers, seven tankers, a Scorseby Hoselayer,and an on-site 30,000-litre on-site tanker helped contained the fire within an hour.
"Special thanks to people on-site in helping us with access and co-operation in dealing with the job," he said.
CFA Operations Officer for Casey Don Wilkie said: "The cause is unknown but not suspicious."
He said the centre noticed smoke just as they were closing the gate to go home.
"There wasn't like toxic, hazardous, dangerous smoke in there but there was smoke going over the Hampton Park community."
"There's always a concern with smoke. We put out a community warning for the residents of Hampton Park."
For years, neighbours have frequently criticised stenches from the landfill as well as its proximity to houses.
In September, Suez Recycling and Recovery was fined nearly $8000 by the Environment Protection Authority Victoria (EPA) for the escape of odour outside its landfill boundaries.
The tip has been the subject of three Pollution Abatement Notices in the past two years and an EPA enforcement action in 2012.
Suez has a planning permit from Casey Council to operate the tip until 2040.
Vanassa Gerdes of Hampton Park Progress Association said: "It's high time to close the tip.
"At the end of the day, it's in a built-up community residential area – it's time to close."
She said residents couldn't be sure what was released in the fire's smoke on 11 November.
"Do you really know what's been dumped in that tip? Do people always do the right thing?"
As for appropriate sanctions, Ms Gerdes said: "Maybe it's time for them to get another fine and give Hampton Park $500,000."
EPA Southern Metro Manager Marleen Mathias said EPA officers attended the fire and observed smoke and some firewater run-off from the site.
"EPA officers provided advice on firewater containment and clean-up of the site."
"EPA was not requested by the incident controller, in this case MFB, to undertake air monitoring."
Ms Mathias said the site was not licensed by the EPA but the EPA would regularly inspect the transfer station and raise any issues with the Victorian Government's Resource Recovery Facilities Audit Taskforce, which has assessed the site as being low-risk.