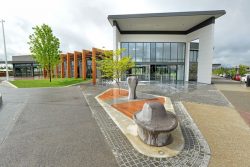 Residents are invited to join in the opening celebrations for the new $6.56 million Selandra Community Hub on Saturday 18 November.
Located in the growing suburb of Clyde North, the community hub will have flexible halls, meeting rooms of varying sizes, consulting suites, a large foyer, exhibition space and a commercial kitchen.
The project also included the development of Selandra Square – a vibrant community space for outdoor activities and events and an informal meeting place for residents.
The town square features an innovative digital public art installation, created in collaboration with RMIT University that responds to different types of touch and features light, vibration and sound.
City of Casey Council provided $4.06 million to deliver the project while the State Government provided $2.5 million through the Interface Growth Fund.
City of Casey Mayor Cr Sam Aziz said council would host a free community event to celebrate the opening of the facility and encouraged residents to come along.
"The opening will be a great opportunity to tour your new community hub, join in the fun and tell council what you'd like out of your new community space," the mayor said.
"The opening celebration will include children's art and craft activities, face painting, storytime, cooking demonstrations, gardening workshop, live music, a pop-up playground, sausage sizzle, morning tea and more."
The Selandra Community Hub replaces the now closed Selandra Community Place, which was an interim community facility that provided residents with innovative and practical programs centred around health, well-being, community connectedness, local business and sustainability.
As a result of that project, the new community hub has been ecologically, sustainably designed based on local community feedback.
Cr Aziz said the Selandra Community Hub would provide a precinct for the growing Clyde North and surrounding communities to meet, learn, play and connect.
"This project has delivered facilities and spaces for community organisations to deliver key services, for community groups to come together and for local residents to participate in programs, activities and events," he said.
"There's already playgroups, yoga, seniors programs, training opportunities and school holiday programs planned for the centre, but council wants to hear from local residents about what they'd like to see and do at the facility.
"I encourage residents to head along and check out this beautiful community space, meet the staff and provide suggestions on what you want out of your local community centre."
Selandra Community Hub will open on Saturday 18 November at 11am-1pm. The venue is located at 7-11 Selandra Boulevard, Clyde North.