By Nick Creely
Casey-South Melbourne skipper Lachlan Sperling has lamented his side's inability to stay in the game for long enough, with the Swans losing their opening round match to Ringwood on Saturday by 93 runs.
Sperling and his Swans were bowled out for 109 off 36.3 overs in the pursuit of the Rams' par total of 202 at Casey Fields, and were suffocated by the relentless pressure the opposition applied.
"It was pretty disappointing – we weren't good enough for long enough in all areas and that showed on the scoreboard," he said.
"We had some periods (in the field) where we thought we were on top – they had a couple of good partnerships in the middle that turned it a little bit but I thought later on we pegged them back after they were looking at around 240."
"We thought it was gettable, but we just didn't execute with the bat – but we took some learnings from it for sure.
"It was the dot ball pressure, and the lines they bowled we couldn't score off – the main thing we got from the game though was the intent of our batsmen."
After sending the Rams in to bat, spearhead Nathan Lambden snared two early scalps courtesy of some tidy work by Dev Pollock behind the stumps, leaving the visitors 2/13.
An 85-run partnership between Jackson Freeman (61) and Joseph Loorham (47) helped lift the Rams into a strong position at 4/185, looking at posting a score of 250 or more.
But Lambden then tore the middle to late order apart with raw pace to take four quick wickets to keep the Rams to just 202 – a favourable total considering the Rams were at one point 4/173 and eyeing a massive score.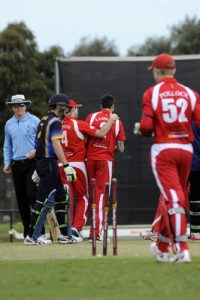 The Swans' quick – who made his Victorian Futures debut last season – took 6/16, his third five-wicket-haul at First XI level, while Brendan Rose (1/44), Dylan Hadfield (1/31) and Sperling (1/38) all chimed in and did their job.
In reply, the Swans just couldn't rotate the strike enough, and were bowled out for just 109 despite some resistance by aggressive batsman Jordan Wyatt (42).
An early maximum that cleared the ropes by the returning Kasun Suriaratchie (12) had the Swans up and about, but the wickets of Suriaratchie, Michael Wallace (2) and Sperling (6) dented the home side's ability to keep the run rate up.
But despite the loss, Sperling said his side aims to move on quick and are unlikely to make any changes, with an important clash against an Essendon side fresh off a strong win over Greenvale a chance to bounce back.
"We didn't execute what we set ourselves to do, but we have this week against Essendon to rectify that so we move on from there and start again," he said.
"We're likely to stick with the same group 100 per cent.
"It's going to be a really good test, they have a really good side and we're keen to get out there and test ourselves – we're looking forward to the challenge."
Casey will travel to play the Bombers at Windy Hill on Saturday.