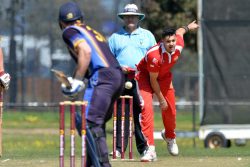 By Nick Creely
VICTORIAN PREMIER CRICKET
CASEY-SOUTH MELBOURNE – ROUND 1 PREVIEW
Casey-South Melbourne v Ringwood
Casey Fields – Saturday 7 October from 11am
The time for talk is over. The time for action officially begins.
After a breakthrough finals appearance in 2016/17 with one of the youngest groups in the competition, there is pressure on Casey-South Melbourne to deliver this season after one of their finest seasons in recent memory.
In the off-season, the Swans stayed relatively quiet in terms of recruiting outside talent, preferring to nurture the youngsters already within the club and continue to grow the same group that saw them challenge eventual premiers Fitzroy-Doncaster in the semi-final in March.
Their latest challenge will be to continue to evolve their game, and there is no better test than against a Ringwood side that is in a similar boat and looking to return to finals after an underwhelming 2016/17 campaign.
As skipper Lachie Sperling recently said, the key for their batsman this season is to convert starts into big scores, and although Saturday won't give his batsman ample opportunity to bat time, it provides an opportunity to put a big score on the board and make a statement to the competition that they're here to win it.
There is just two changes to the Swans' side that went down to Fitzroy-Doncaster, with important and talented young quick Jackson Fry working his way back from injury in the seconds, while elegant opening batsman Luke Manders – who made 159 against the Lions in Round 14 last year – is currently away travelling.
Nonetheless, Kasun Suriaratchie – who missed the majority of last season but is capable of causing destruction at the top of the order – and developing Cranbourne spinner Cameron Dinger come in, and are more than capable of covering those two outs.
There should be vital learnings taken from their win over the Rams last season – they strangled them with the ball, fielded superbly and maintained a frenetic energy, while with the bat they remained patient and turned the strike over constantly.
LAST TIME THEY MET:
The Swans and Rams met at the same time last year, with the Swans winning by four wickets after brilliant performances by Nathan Lambden (2/9 off 9.2), Ashan Wijayakumara (39) and Jackson Fry (3/34). In a low-scoring one-dayer, Ringwood were rolled for 126 off 48.2 overs, and the Swans managed to chase that down with four wickets and 10.3 overs left to spare. It set the tone for a new, exciting and aggressive style of cricket that carried the Swans through to the finals.
CASEY-SOUTH MELBOURNE 1st XI
2016/17 1st XI statistics
Dev Pollock+                17 matches, 524 runs at 26.20, HS 69
Kasun Suriaratchie       3 matches, 35 runs at 11.67, HS 15
Michael Wallace           17 matches, 429 runs at 25.24, HS 95
Ryan Eaton                   17 matches, 370 runs at 20.56, HS 64
Lachie Sperling*            17 matches, 449 runs at 23.63, HS 80, 11 wickets at 24.82, BB 2/3
Jordan Wyatt                 12 matches, 310 runs at 22.14, HS 92
Dylan Hadfield               17 matches, 450 runs at 28.13, HS 69, 13 wickets at 31.92, BB 2/25
Brendan Rose                17 matches, 177 runs at 13.62, HS 30, 39 wickets at 18.92, BB 5/37
Nathan Lambden            17 matches, 151 runs at 12.58, HS 38, 25 wickets at 24.92, BB 4/34
Cameron Dinger             5 matches, 27 runs at 13.50, HS 15, 4 wickets at 60.75, BB 3/85
Leigh Diston                   16 matches, 86 runs at 17.20, HS 30*, 19 wickets at 35.05, BB 4/69
PLAYERS TO WATCH:
Casey quick Brendan Rose transformed himself from a workhorse opening bowler to a devastating wicket-machine in the second half of last season, and remains as the key lynchpin along with Nathan Lambden in restricting the Rams' strong batting line-up. After the Christmas break last year, Rose took 26 wickets and three five-wicket-hauls, and if he can enter the season with that much confidence, look out.
For the Rams, lighting quickie Matt Fotia certainly suits the Casey Fields pitch. Capable of bowling express pace and skidding onto the batsman, the aggressive youngster caused the Swans' batsman headaches last season, taking 2/23 off his 10 overs.
THE FINAL WORD:
Saturday provides the perfect scenario for Casey to set the tone in all grades that it means serious business in 2017/18. A home one-dayer against the Rams will be a challenge in forecasted overcast conditions, but there is enough batting and bowling depth in the side to carry them through. A strong, winning start to the season is crucial for a Casey team that plays on confidence.