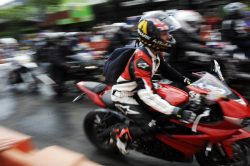 It's time to get revved up for the City of Casey's most exciting annual event, with the 2017 Cranbourne GP Run just around the bend.
The streets of Cranbourne are set to come alive on Saturday 21 October, as huge crowds turn out to wave-off thousands of motorcyclists who gather in High Street to travel en-masse to Phillip Island for the Australian Motorcycle Grand Prix.
City of Casey Mayor Cr Sam Aziz encouraged residents to come along and share in the excitement.
"The Cranbourne GP Run is a truly unique event that sees central Cranbourne enlivened with the roar of motorcycles, a sea of colour and chrome and plenty of family fun for visitors to enjoy," he said.
"There will be festivities and entertainment from 8.15am before the official wave-off at 10am where thousands of riders start their engines and begin their journey to the Moto GP.
"Council is proud to host this thrilling event which has a proud history in Cranbourne, and I urge all residents to come along and experience the fun and excitement for themselves."
Festivities will run from 8.15am until 11am with activities including craft fun, Daytona racing, face painting, workshops, market stalls and roving entertainers, and local talent Matt Prins will be singing the National Anthem.
The charity partner for this year's event is the Casey Cardinia Foundation and their volunteers will be out raising funds to be disbursed through their annual grants program to community groups in the Casey Cardinia region.
The philanthropic foundation raises funds each year to support the social, community and physical development of the Casey and Cardinia communities.
This event will affect traffic in Cranbourne from 6am to 12pm on the day. Significant traffic management will be implemented on event day, with installation of the traffic management plan on High Street commencing at 2am on Saturday 21 October.
This includes kerbside parking not being available along High Street between Stawell Street and Sladen Street and the southbound carriageway of High Street (South Gippsland Highway), being closed from 7.30am to 11am. For full details on the traffic changes in and around Cranbourne and further details on the event visit www.casey.vic.gov.au/gprun or call City of Casey Customer Service on 9705 5200.