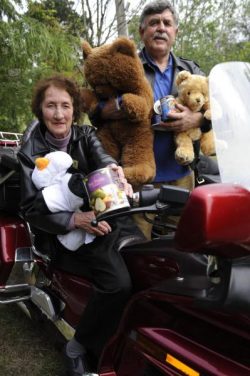 By Brendan Rees
Long-time Cranbourne community advocate Barbara Fay Maggs died suddenly on Saturday 16 September, aged 84.
Ms Maggs was honoured for her tireless charity work with her partner Tony Jenner, with a Medal of the Order of Australia during the annual Queen's Birthday honours in 2015.
At the time of receiving the award, Ms Maggs said: "It put me off balance, but was a marvellous surprise," she said.
For the past three decades, Ms Maggs and Mr Jenner organised the Cranbourne Ulysses Motorcycle Club Christmas toy run to gather gifts for needy children.
Ms Maggs was a Motorcycle Riders Association life member and also received the highest honour from the Ulysses Club, the Dearnley Medal, which she and Mr Jenner received in 2005. She was also an Australia Day award recipient in 2011.
Ms Maggs' son, Gary Maggs, said: "We are very saddened by the loss of such a wonderful, committed mother whose love and passion in helping others will be greatly missed and always remembered."
Mr Maggs said his mother was born at a tough time during World War II. "Tragically, she lost her mother to cancer at three years old. Her father, who trained horses and served as a lighthorseman, was her world."
Mr Maggs said unfortunately Ms Maggs become an orphan after her father William McCullagh died after a tree he was attempting to remove at Moorooduc Primary School for the safety of children, fell on him.
"By her sixth birthday Barbara grew up with her aunty in Hepburn Springs where they ran a chalet," he said.
At 18, Barbara was "swept off her feet" where she met her first love, whereby Mr Maggs says, she was sadly "trapped in an abusive relationship" for more than 17 years.
Fortunately, he says, Ms Maggs met long-term partner of almost 50 years, Mr Jenner.
Ms Maggs never received a traffic infringement in her 47 years of driving, Mr Maggs said. "I think that's a remarkable effort. I said 'How do you do it?' to which she said 'You've just got to pay attention to what you're doing.'"
"She was the most dedicated mother and fought hard to keep us boys together. She may have been a little woman but she had a big heart," he said.
"Her boys said just the little simple acts of kindness she would do without anyone knowing, or forever bought things for someone who needed it."
"She had a very caring, helping spirit. She was a fighter for the underdog and the oppressed."
Barbara is survived by her partner Tony, and four sons Gary, Peter, Dale and Lenny.
A funeral service will be held at Tobin Brothers Cranbourne Chapel between 11am – 12am on Tuesday, 26 September, 210 Sladen Street (corner Cooper Court) Cranbourne. Everyone is welcome to attend.