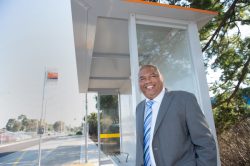 By Brendan Rees
After 16 years of serving the Cranbourne community, State Member for Cranbourne Jude Perera says it's time for him to say "goodbye."
Mr Perera has decided not to stand for re-election for the state seat of Cranbourne in the November 2018 state election.
"It's been an absolute honour and privilege to represent the seat of Cranbourne District since winning the seat in November 2002. It has also been an honour to be elected into the Lower House of any parliament of Australia, as the first Sri Lankan born and totally Sri Lankan educated person. Hopefully others will follow, enriching the multicultural nature of our society," he said.
Mr Perera said after speaking with his family, it was the right time to leave.
He said he would follow future political developments with interest: "I will be a student and an ardent advocate of the social economy spreading fast in Europe and delivering concrete, long-term, just solutions guaranteeing the livelihood of their people."
He said he met some "wonderful people" with many he was proud to call his friends.
"I always treated parliament, members from all political persuasions, staff and my constituents with the dignity and respect they deserved."
Mr Perera said representing and providing the most marginalised with a voice and "going into bat for them" on many occasions so they could get the respect they "simply deserved" was a highlight of his career.
"When anybody contacted this office seeking my assistance, even on matters falling outside state jurisdiction, I have never turned them around," he said
He said many residents were doing it tough – many through no fault of their own.
"The office gave me the privilege to change many peoples' lives for the better. Therefore, I leave the office with enormous satisfaction."
Mr Perera said his supporters, volunteers and staff had been with "me side-by-side, arm-in-arm during my journey," adding "I must say now that I simply could have not done this by myself."
"I wish to thank my family, relatives, my colleagues in the ALP, staff, volunteers, friends, members of parliament and members of the Sri Lankan community and all other communities in Victoria who were with me in this long journey in my career as a member of parliament and leading up to it," he said.
He said he would be working hard in making sure the people of Cranbourne got "their fair share" in the lead-up to the next state election.
Premier Daniel Andrews said since Mr Perera was elected in 2002, he had provided a "strong voice" for many marginalised, multicultural communities, and the people of Cranbourne.
"As the local member, Jude has championed important local projects, including fixing Thompsons Road, rebuilding Cranbourne Secondary College and building many new schools – including most recently Barton Primary, Tulliallan Primary and Wilandra Rise Primary – for local families. I'd like to thank Jude for his years of service, and wish him the best for his future," Mr Andrews said.