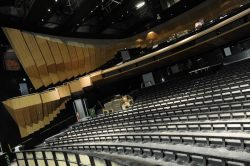 A bold plan will see Cardinia and Casey councils join forces to market the area as a leading Australian tourism destination.
The draft Casey Cardinia Visitation Strategy 2017-'20, approved by the council at its 21 August meeting, reveals ambitious plans to grow tourism in the area.
It cites local attractions Emerald Park Lake, Puffing Billy, Fountain Gate Shopping Centre, Cranbourne Gardens, Moonlit Sanctuary, The Old Cheese Factory, and Gumbuya Park and Bunjil Place – once underway works are complete – as places to visit.
City of Casey Mayor Sam Aziz said tourism was critical for economic growth and generating jobs but also "parading both cities in terms of what we have to offer."
"From Cardinia's perspective there are wineries and many other attractions from Casey's perspective.
"We've got the new Bunjil Place which will open in October and will bring international performances to the region for the very first time," Cr Aziz said.
"Cardinia is an economic partner of ours and we see ourselves as a region rather than two individual councils. Anything that brings more people and spending to the region is something that will be supported by both councils."
"This initiative has been in the making for a whole decade ever since I've been on council and it's an exciting prospect for the whole region," he said.
Cardinia councillor Michael Schilling said all too often people were driving through the shire to reach other tourism destinations such as Gippsland.
"And we don't want Cardinia to be the place people stop for a bite to eat. We want them to come, stay and enjoy," Cr Schilling said.
"Cardinia is a wonderful place, with a number of wonderful attributes that we want to show off."
The council said it wanted to make the most of the "distinct advantage" the region's close proximity to other tourist destinations such as the Yarra Valley, Gippsland and Mornington Peninsula brought.
Cardinia Shire believes Casey Cardinia too could become a tourism hotspot if the councils joined forces.
"From a tourism perspective, the inclusion of the City of Casey is very important, as it contains a large number of the region's significant activities and attractions," its draft strategy states.
"(The City of Casey's) attributes both complement and enrich the traditionally more rural-based Cardinia Shire. Their combined products and experiences offer particular appeal to families and considerable potential for a strong visitor market."
Both Cardinia and Casey councils will contribute $50,000 for a tourism budget for the 2017-'18 financial year to get the strategy up and running.
Cardinia Shire said the draft Casey Cardinia Visitation Strategy provided "a strong plan to help strengthen the region's tourism industry and provide opportunities for tourism operators and affiliated businesses".
Similar to other significant tourism destinations across Australia, the document outlines a detailed three-year marketing action plan that will be led by industry in the form of an independent regional board.
This board will include members from the Casey Cardinia Tourism Advisory Committee (CCTAC) and Casey Cardinia Libraries' CEO Chris Buckingham, who was also the former CEO of Destination Melbourne, will also play a major role.
There has been "general community support" for the tourism plan but Cardinia Shire did receive three submissions highlighting concerns during public consultation earlier in the year.
Some community members were worried there were inadequate services and infrastructure to cater for increased visitor numbers in the townships of the Dandenong Ranges; that the creation of a new regional tourism brand would weaken the established Dandenong Ranges tourism brand; that certain hills villages wished to align themselves more with Yarra Ranges campaigns instead of Casey Cardinia region campaigns; and that money earmarked for the creation of a regional tourism brand should instead be given to the Eastern Dandenong Ranges Association.
Cardinia Shire said CCTAC members individually reviewed the community feedback and concluded "that it offered a micro-view of the region".
"Further, members felt that the Eastern Dandenong Ranges area does not drive tourism, as seems to be the sentiment of the submissions. Rather, there are several main attractions throughout the region."
Examples cited included developments at Gumbuya Park and Bunjil Place, expansions at the Cranbourne and Pakenham racecourses and the Cranbourne Gardens," its response to community feedback reads.
Instead, the CCTAC offered its own recommendations to improve the strategy.
It outlined needs for a co-ordinated regional calendar of events, themed trails and product packages as well as additional cafes, retail, attractions and activities in Cardinia's hills villages and arts communities.
The committee's recommendations also highlight the importance of strengthened relationships with relevant government and tourism bodies, and improved communications with neighbouring regional tourism organisations for possible collaborations.