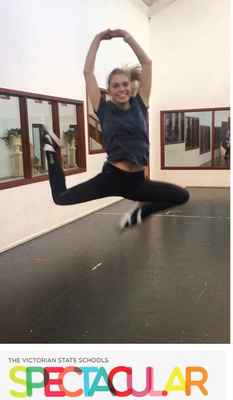 By Brendan Rees
Taking centre stage in front of a big audience is nothing new for 17-year-old Rebecca Zahra, who is preparing for her third State Schools Spectacular.
Rebecca will be one of 3000 young performers from more than 200 schools who will shine on stage in a range of disciplines including dance, music, song, puppetry and magic at Hisense Arena on Saturday 16 September.
Rebecca, 17, is one of 16 principal dancers at this year's spectacular after performing as a principal dancer in 2016 and ensemble dancer in 2015.
"I am very excited but also very upset because it will be my last year as I am in Year 12. This has been my best year and the friendships have been great," Rebecca said.
The Lyndhurst Secondary College student and college captain will perform 10 routines on the night, seven of which are in heels.
Rebecca always dreamed of becoming a professional dancer since the age of seven but after completing VCE, she hopes to become a qualified myotherapist and run her own clinic in supporting dancers with muscle therapy and rehabilitation.
Rebecca is training every Sunday for seven hours with four of Australia's top choreographers; Deon Nuku, Yvette Lee, Troy Philips and Tarra Papulous at the Ministry of Dance in North Melbourne.
During the school holidays, rehearsing will be ramped up to seven hours a day from Monday to Friday.
"Rehearsals are going well. We are more prepared this year than any year before," she said.
Tickets for the Victorian State Schools Spectacular are available through Ticketek for two shows on Saturday 16 September at 1pm and 6.30pm at Hisense Arena. The event will also be broadcast on Channel Seven in December.