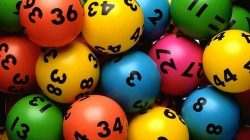 By Brendan Rees
There are 13 smiling TattsLotto winners across Lynbrook, after their shared entry in a $20 million TattsLotto draw won a division one share from the weekend of 2-3 September.
The winners were part of a store syndicate set up by Lynbrook Village News at Lynbrook Village Shopping Centre, which offered their customers a syndicate entry to share the cost of a bigger entry type and more chances to win.
In addition to the division one win, the syndicate also won other divisional prizes with their five-game system, making the total prize worth more than $1.6 million or $130,738 per share.
Lynbrook Village News owner Tony Zhou was absolutely wrapt to have sold another division one winning entry.
"This is our second division one TattsLotto winning entry in just four weeks," he said.
"Our syndicate winners are regular customers so we are really pleased for the 13 winners."
"They play a syndicate every week, but this was a new syndicate set up specifically for the $20 million Saturday Superdraw."
"We are so happy that their syndicate 'Tick the Boss' was a winner and we wish all of the winners the best with their prize," Mr Zhou said.