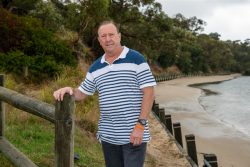 By Victoria Stone-Meadows
Casey Councillor Geoff Ablett has distanced himself from accusations he was involved in the 'lobster with a mobster' dinner with Victorian Liberal Party leader Matthew Guy.
Earlier this week, media reported that a recording was made of Liberal Party official Barrie Macmillan speaking with members of the Madafferi family.
The recording allegedly indicates that the Madafferi family were interested in making a donation to Mr Guy's 2018 State Election campaign in small quantities to mask the origin of the donations.
The dinner at The Lobster Cave in Beaumaris was organised by Mr Madafferi's cousin and Clyde vegetable grower Frank Lamattina.
The dinner was attended by Mr Guy, Mr Madafferi, Cr Ablett and Mr Lamattina.
While Cr Ablett admitted he was at the dinner he said he knew nothing about political donations and was only there in his capacity as a councillor for the City of Casey.
"I was in attendance; I was invited by Frank Lamattina to talk about issues in relation to vegetable growing, transport and problems with the markets," he said.
"That's why I was there, as a councillor, I didn't know who else was going and I wasn't introduced to anyone else, I wouldn't know them if I fell over them."
Police have alleged in the past that Tony Madafferi is a senior figure of Melbourne's L'Onorata Societa, the Calabrian mafia.
Frank Lamattina ran for the Balla Balla Ward in the 2016 Casey Council elections and is an executive member of AUSVEG Victoria.
Cr Ablett is a member of the Liberal Party of Victoria and has previously run for the state seat of Cranbourne but said he has nothing to do with the workings of the party.
"For me it was just another meeting to learn more about people in my area," Cr Ablett said.
"I don't know anyone connected to the mafia and I don't appreciate papers trying to create a link between me and the mob; it's just absurd.
"I went along in my role as councillor, trying to be the best councillor I can be, that's where it finishes.
"There is no connection with me or other people that were there … I am not involved with state or federal politics anymore."
It is believed while at the dinner, Mr Guy and Mr Madafferi dined on lobster and expensive bottles of Penfolds Grange, Cr Ablett said he did not partake in any dining decadence.
"I didn't have a conversation about anything other than vegetable markets and certainly didn't hear anything about money mentioned," he said.
"I didn't have a drink or a meal and was feeling a bit crook so I told Frank, then sat at the other end of the table and then went home."
Barrie Macmillan has since stepped down from his role as Dunkley electorate conference secretary and Prime Minister Malcolm Turnbull has said the claims made about the dinner will be investigated by federal authorities.