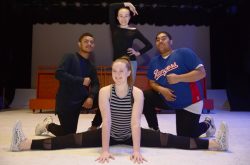 By Victoria Stone-Meadows
The 2017 State Schools Spectacular is back this September, with 3000 students from primary and secondary schools all over Victoria taking part in the massive performance.
Among them, many are from the Casey region, and are involved in the all-singing all-dancing performance titled, Anything is Possible.
A few of the Casey students participating in the spectacular for the first time said through the countless rehearsals to date they had already learnt so much.
In his very first performance, Joseph Stewart, a Year 11 Cranbourne Secondary College student, will be a principal vocalist.
He said he was nervous about performing in front of a large crowd, but the skills and knowledge he accrued had all been worth it.
"Honestly, it is nerve-wracking," he said.
"It's our first big performance in one of Melbourne's biggest arenas, but at the same time it's an amazing experience in music and us being able to perform our passions."
Fifteen-year-old Joseph said he had always had an interest in singing, and had found the State Schools Spectacular had given him a lot of valuable training.
"Music and singing has been my passion since I was three," he said.
"For first time going into spec and not having any experience, they have given us lessons and warm ups all for free and lots of skills we can get better with and share with others."
"That's what I love about being a vocalist with other people especially out of Melbourne; they can show us what we don't know and things like that."
Bonnie Ramsey is also in Year 11 at Cranbourne Secondary, and is an ensemble dancer in the 2017 State Schools Spectacular.
She said having the chance to dance with so many other people had inspired her to try new things and work on dance techniques she hadn't considered before.
"I started dancing about five years ago at 12 years old, and have always done classes at a studio and do about 13 and a half hours a week there," she said.
"I really enjoy dancing, but this is something so different to anything I have ever experienced, and it's made me realise what type of dancer I am."
Bonny said all the different people she had met and the genre specific style of dance had made her look at dancing in an entirely new way.
"I have met people who have inspired me to work on things I haven't worked on before," she said.
Year 11 Hampton Park Secondary College student Silao Stanzlauz has also landed a principal vocalist role in his first year at the spectacular.
"I didn't even know about spec until I auditioned and got in, and it's really great," he said.
"I have never met other singers that are really good; they are so good and so fun to be around."
"I really love meeting people with the same passion as me, who love to sing. I'm doing music and Vet music for VCE, and spec has shown me a lot and boosted up my confidence," he said.
At just 13 years old, Ashley Lucey-Jannert is performing in her fifth state schools spectacular as an ensemble vocalist, and said she kept coming back every year because she got so much out of the experience.
"The last few years being at spec has helped me develop more on my singing side, I think some days I favour dancing but other days I feel like it's singing, I want to do," she said.
"I keep surprising myself with what I can do and I want to keep going to Year 12, and my aim is to get to principal vocalist."
"Spec has helped me as a person, and now I don't think of myself as just a dancer or just wanting to be a dancer; now I want to sing as well and I want to do everything."
The 2017 State Schools Spectacular will have a 64-piece orchestra, 30 lead vocalists, 16 principal dancers, 20 ensemble dancers, eight backing vocalists, a magician, roller skaters, puppeteers and a 1300-voice choir and 1200 mass dancers.
The performance will be on Saturday 16 September at Hisense Arena with tickets available through Ticketek.