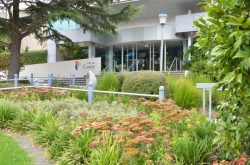 By Victoria Stone-Meadows
Casey Council officers and employees were evacuated from the Magid Drive municipal offices after a faulty wire connection set off the fire alarm.
Everyone in the building was ordered outside on the afternoon of Wednesday 5 July and CFA crews were called to investigate the source of the alarm.
"We were sent out and were outside for about 30 or 40 minutes," media officer Chloe Casey said.
"But everyone is back in now and all is good."
The false alarm occurred during the funeral for former mayor and councillor, Mick Morland, at the Berwick Church of Christ.