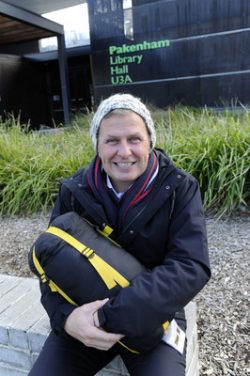 By Victoria Stone-Meadows
Casey Cardinia Libraries CEO Chris Buckingham will brave the cold this month for the annual St Vinnies CEO Sleepout at Melbourne University.
2017 will be the sixth year in a row that Mr Buckingham has helped raised money for homelessness by participating in the sleepout.
He says he's passionate about lending his voice to those who don't have the means to raise it on their own.
"As CEO of Casey Cardinia Libraries I am reminded every day of the challenges faced by people in our community who are grappling with unemployment, mortgage stress and homelessness," he said.
"Libraries play an important role in supporting people with warm and safe places during the day. We also provide people with vital access to free information and support services."
Mr Buckingham said he would partake in the CEO sleepout in the spirit of the 'invisible homeless' who dominate among the vulnerable people of the Casey and Cardinia areas.
"It's hard to imagine when you walk the streets of Melbourne, but the majority of people experiencing homelessness are not sleeping on bluestone pavements," he said.
"They are women and children in the suburbs – couch surfing, sleeping in the back of cars and often as not escaping family violence."
Mr Buckingham is hoping to raise $5000 through the CEO Sleepout #FaceToFace with Poverty campaign that will go towards the Vinnies Soup Vans.
The sleepout will see Australia's top CEOs sleeping rough on a piece of cardboard on the night of Thursday 22 June in the south lawn underground carpark at the University of Melbourne's Parkville campus.
The CEOs will be served soup from the Vinnies Soup Van and hear real-life experiences from Vinnies volunteers and people they assist.
Mr Buckingham said the CEO Sleepout provided an opportunity to encourage discussion, debate and ultimately influence the issue of homelessness and poverty in the Casey Cardinia region.
St Vincent de Paul Society Victoria CEO Sue Cattermole said the sleepout gave those in our society with the most power a chance to gain an understanding of how difficult life was for some in our communities.
"The Vinnies CEO Sleepout is a hugely important event on the corporate calendar – one that is grounding and eye-opening to the real economic and social issues that we don't always see in our everyday, busy lives. It's a unique meeting of minds," she said.
Everyone in the Casey Cardinia region is encouraged to support Mr Buckingham in reaching his fund-raising goal and providing much-needed funds for the soup vans.
To find out more about the CEO Sleepout and to donate to the cause, visit www.ceosleepout.org.au.