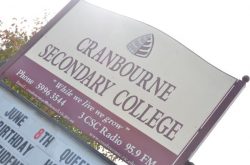 By Victoria Stone-Meadows
Casey Council has altered recommendations council officers put forward, in a bid use the indoor basketball/netball courts at Cranbourne Secondary College for the community.
The officers' report noted it would be premature for the council to enter into a joint use agreement with the school while the development of the former Casey Indoor Leisure Centre was underway.
However, Councillor Amanda Stapledon opposed recommendations from council officers and put forward an alternative recommendation at a recent council meeting.
At the council meeting on Tuesday 6 June, Cr Stapledon put forward an alternative recommendation that council hold an urgent meeting to discuss joint use of the court.
"Council officers didn't seem to know that the school has attempted to get help from Casey several times since 2012 to upgrade the floor and toilets, though not recently," she said.
"The report shows a forecast shortfall of basketball and netball courts and it seems logical that the new Casey Stadium alone won't meet the demand."
Councillor Wayne Smith supported Cr Stapledon's alternative recommendation, saying it was unwise to wait for the development to be finished before entering into the agreement.
"Why wait for 12 months to see what happens?" Cr Smith asked.
"It's clear that the current basketball and netball needs aren't going to be met by Casey Stadium and the Cranbourne Secondary College opportunity is cheaper than building two courts from scratch."
Casey Council CEO Mike Tyler was hesitant to support the new recommendation, citing cost to council as a concern of any joint use agreement.
Mr Tyler wondered why Casey Council would be required to fund this project when it was already funding Casey Stadium up the road.
He suggested councillors wait and see what happened after Casey Stadium opened.
However, a majority of councillors passed the new recommendation that will see interested councillors and the principal of Cranbourne Secondary College, Mr John Jovic and Susan Bergman meet to discuss moving forward with the agreement.