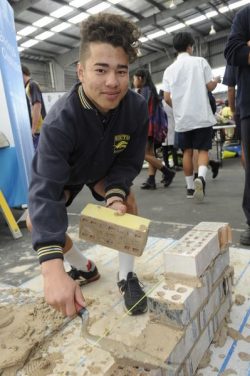 By Victoria Stone-Meadows
High school students from Casey and beyond will have the opportunity to flesh out their perfect career path at the 2017 South East Careers Expo and Try a Trade.
The expo will give students and others a hands-on glimpse into a variety of careers and career paths they wish to take.
Casey Mayor Sam Aziz said the expo would be the perfect setting for students to really get a handle on figuring out what they wanted to do in the future.
"With interactive displays for people to try out, those who come along and take advantage will really get a feel for the type of work they'd like to do," he said.
"Getting a good feel for an industry, whether it be hairdressing or building, can help any young person decide if it's something they would like to further explore."
"It's the ideal way for young people to feel more informed when exploring a range of industries and occupations, and can also help them plan for an exciting future."
Cr Aziz also said the guidance and advice made accessible to those that attend would be invaluable.
"Ensure your child doesn't miss out on seeking the guidance and inspiration that will help them prepare for a bright and fulfilling post-school future, and check that their school is booked to attend," he said.
The 2017 South East Careers Expo and Try a Trade Expo will be on Tuesday 2 May from 9am to 3pm at the Cranbourne Racecourse.
This event is made possible through support from the City of Casey, Casey Cardinia Shire Council, the South East Local Learning and Employment Network, Cranbourne Racecourse and media partner, Star News Group.