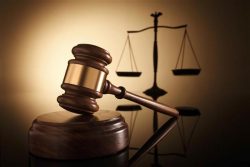 By Cam Lucadou-Wells
A Narre Warren man has been jailed for at least four years for firing eight bullets into an inhabited brothel during a drive-by shooting in Caulfield South last year.
Patrick O'Kelly, 27, had pleaded guilty at the Victorian County Court to 15 charges including trafficking ice, car theft, recklessly endangering people and being a prohibited person using a firearm.
About 2.55am on 30 March, O'Kelly sat in the back seat of a stolen Porsche, wound down the window and fired eight shots from a 0.223-calibre rifle.
Seven of the rounds struck the front of the Club 859 brothel, with one shattering a shower screen inside and narrowly missing a female worker.
Another ricocheted from the building into a nearby tram shelter.
At the time, there were six people inside the premises.
Inside the Porsche that afternoon, police seized ammunition, a hand-written note with the brothel's address, a key to a stolen Navara ute, an imitation firearm as well as more than 65 grams of meth.
They also seized cannabis, GHB and cocaine from the car.
In a search on O'Kelly's home, police discovered a stolen double-barrel shotgun and cartridges, a samurai sword and numchucks, and stolen number-plates.
At the time, O'Kelly was a disqualified driver with prior driving-while-suspended, drug and firearm convictions.
He had been "off my head" on an ice habit of up to two grams a day, blaming it for his "stupidity" and anti-social impulses.
During his 335 days in pre-sentence custody, O'Kelly had become free of his addiction and depressive mood disorder, his lawyer had argued.
In sentencing on 10 March, Judge Susan Pullen said O'Kelly showed some remorse for his "extreme act of violence".
Judge Pullen was however troubled by his lack of clear explanations for his offending or the pre-planning, other than intending to give the brothel occupants and owners a "message".
The judge also noted O'Kelly relapsed into drug use and breached a community corrections order within a month of being released from jail in 2015.
She was therefore "guarded" when assessing the accused's prospects for rehabilitation and commitment to drug treatment.
She jailed O'Kelly for five years, 10 months and 14 days with a four-year non-parole period.
His driving licence was disqualified for five years.