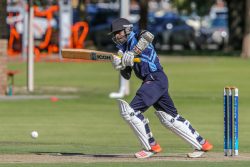 By Nick Creely
DDCA TWENTY20 GRAND FINAL PREVIEW
BUCKLEY RIDGES v CRANBOURNE
WHEN: Wednesday 22 February, 5.15pm.
WHERE: Park Oval, Dandenong.
In one of the most action-packed and entertaining Twenty20 tournaments in the competition's short but exciting history, it's all set to come down to this – a clash of the titans of such, with the Bucks and Eagles set to battle it out for the Dandenong Club Twenty20 trophy.
Both teams have had stellar tournaments with some incredible individual performances and crushing team victories.
The Bucks, well they haven't even lost a game in this tournament, highlighting their dominance with the white ball – more importantly it's been the manner of their victories – they are not just scraping over the line, they are dictating terms against every line-up they come across.
Their line-up is chock-a-block with stars. At the top is Susantha Pradeep who has ploughed 243 runs this tournament at an impressive average of 48.6, while the other opener, Daniel Watson, struck a magnificent and unbeaten 119 in the semi-final win over Berwick three weeks ago.
Luke Fletcher provides coverage with both bat and ball and is a brutal hitter of the white ball, Rajitha Jayathunga is a natural run-maker who has hit some form, while Troy Aust, the reliable skipper, is compiling an impressive season.
Their bowling is tough to crack with Luke Fletcher, Daniel Watson, Lukas Hoogenboom, Matthew Goodwright, Hussain Ali and Wes Nicholas all different and all hard to score off.
And then there is Cranbourne, the champions of Turf 1 last season, who continue to set the tone for the entire competition.
There has been just one blip in their radar this Twenty20 campaign, a narrow loss to Mordialloc in the round-robins.
But their major strength is turning it on in the big games, just look at the Cricket Victoria Regional Big Bash.
Led by the revered Steve Spoljaric, who actually hasn't quite got going this tournament, with 86 runs at 14.3, the Eagles are not short of superstars.
With the ball, however, Spoljaric has taken 9 wickets at an average of 8.8, with an economy rate of 3.6 – truly mind-boggling.
Then there is Matthew Chasemore who, despite possessing one of the most unique batting techniques, churns out runs like no other.
It may be a big statement, but Chasemore could be the most in-form Twenty20 club cricketer in the country.
He has scored 237 runs, including a remarkable 136 for the Eagles, while with Main Ridge in the MPCA where he is a marquee in its Jack Peacock Cup, Chasemore has made another two centuries this season.
They have found some players, such as Lucas Ligt, Jakeb McVicar and Pradeep Boyal, who are vitally important, while marquee Cameron Dinger is a rising-star who continues to impress with his leggies.
LIKELY LINE-UPS

BUCKLEY RIDGES
Susantha Pradeep
Daniel Watson
Luke Fletcher
Rajitha Jayathunga
Troy Aust (captain and keeper)
Jayson Hobbs
Suren Ekanayake
Matthew Goodwright
Hussain Ali
Wes Nicholas
Lukas Hoogenboom
CRANBOURNE
Steven Spoljaric (captain)
Lucas Ligt
Matt Chasemore
Cam Dinger (marquee)
Jordan Cleland (keeper)
Ryan Jones
Jake Harrington
Cameron Kelly
Luke Kerford
Jakeb McVicar
Pradeep Boyal