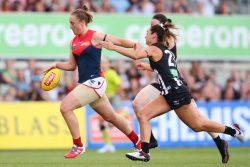 By Nick Creely
AFL WOMEN'S LEAGUE
REVIEW – ROUND 2
Melbourne has recorded their first AFLW victory, comfortably knocking off a disappointing Collingwood side by 19-points on Saturday night.
With both sides coming into the round without a win, it was essentially a do-or-die clash, and at half-time, it seemed the Pies were going to belt the Dees into submission, taking an early 19-point lead.
The Demons struggled to gain any control over the contest early, with sloppy ball-movement and an inability to convert plaguing them early.
But whatever coach Mick Stinear said to his troops at half-time worked, with the Demons bringing a renewed energy to the contest.
The Demons found their mojo, moving the ball with ease, piling on six goals to zero, running out clear-winners.
Last week's star Karen Paxman was once again stellar for the Dees, registering 15 disposals and a telling goal, while Daisy Pearce was once again industrious with her ability to move freely through traffic.
But the stirring win may come at a cost, with Meg Downie seriously concussed after a heavy, late hit to the jaw from Magpies forward Sophie Casey, and is likely to be scrutinised by the tribunal.
Downie was tapping the ball forward with her head hunched before being cleaned up by Casey, and was stretchered off the ground in front of concerned spectators.
Stinear said that Downie appeared to be ok, but is unlikely to feature next week as she recovers from concussion.
"She's been cleared of any serious damage, but still has a heavy concussion – thankfully we have good medical staff on hand so fingers-crossed she continues to improve," he said.
The win leaves the Demons with a 1-1 record, as they look to continue their momentum into next week.
Stinear said it was pleasing to see his group rebound from a bitterly disappointing performance last week.
"It was good to see them play the brand of footy that we have trained for – it's a new group and we are starting to really come together," he said.
"We have a certain style of footy we want to play – I think when the chips were down we had nothing to lose, and it just started to click and we started to believe.
"The positive for us is that now we know what it feels like to be a winning team – they'll be wanting to replicate that more often than not.
"Last week's loss was a pretty emotional one and took its toll, so it was good to see the group bounce back."
Melbourne will head across to Whitten Oval to face the Western Bulldogs next Saturday night at 7.40pm.
COLLINGWOOD 3.0 4.1 4.1 4.1(25)
MELBOURNE 1.0 1.0 5.1 7.2(44)
GOALS
Collingwood: Edwards, Hope, Grant, Cameron.
Melbourne: Phillips 2, Anderson, Paxman, Mifsud, Scott, Jolly.
BEST
Collingwood: Barden, D'Arcy, Eva, Grant, Chiocci.
Melbourne: Paxman, Phillips, Pearce, O'Dea, Mithen.
INJURIES
Collingwood: Nil.
Melbourne: Downie (concussion).
Reports: Casey (Collingwood) reported in the fourth quarter.
Official crowd: 6917 at Ikon Park