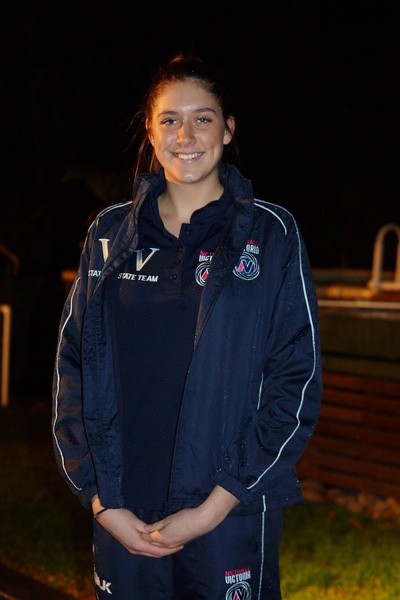 By JARROD POTTER
NAME a netball pathway.
Any path at all.
Local leagues? Victorian Netball League? Victorian representatives? Australian junior squad? Matilda Garrett is probably in it.
Garrett, 17, from Narre Warren South, is in the midst of a flurry of netball success at the moment, and the Rowville Secondary College's Sports Academy netball star-on-the-rise has it all piled up on her plate at the moment – and loves every second of it.
Her latest and greatest achievement was her selection in the Netball Australia 2016 Australian 20/U squad, set to battle against New Zealand and England in an international series this August in Canberra.
She didn't think she was a chance for the Under 19 squad, let alone the elder representative team, which puts Garrett in Australia's mix for next year's Netball World Youth Cup in Africa.
"I found out the other day I got into the Under 20s which was crazy, unbelievable – I didn't even expect to make the 19s, it was crazy," Garrett said. "It was just unexpected because I'm bottom age – bottom-bottom age for the Under 20s – and I don't know, there are amazing players there and I never thought I'd have a chance.
"I'm so excited and I can't believe it."
"I think they're both bringing over two teams so it will be a bit of a mini tournament – doesn't even feel real – I cannot believe it's happening."
Adding to recent duties with Victoria Under 19s – winning the national championship over arch-rivals New South Wales – and an international tour with the Victorian Fury to Papua New Guinea and life on court for the wily defender could not be better.
"I just got back from Perth and we won nationals over there with the state – this year I went over to Papua New Guinea with Fury, and played a mini tournament against Papua New Guinea and Singapore and won both of those games," Garrett said. "That was absolutely amazing – awesome and went too quick though; only there for four days.
"Nationals were so much fun too – I love all the girls in all my teams and it's just like playing with your best friends for a full week and we were undefeated and winning was just like topping it off, so it was awesome."
The cherry on top of her recent netball journey was earning a scholarship to the Victorian Institute of Sport – the breeding ground of the state's best and brightest.
"This year in Vic, I made the Aussie squad as well and from that I got a scholarship to the VIS where we do strength and conditioning there," Garrett said. "The last year I've been going to gym twice a week and I love it, it's made me a lot stronger and this year hopefully I'll continue to get stronger."
For now she'll stick with her intricate netball juggling act – between VNL with Monash Storm, school netball and weekend netball with Karingal's A Grade team in the Peninsula Football Netball League.
She wanted to thank to her coaches, team mates, Rowville Secondary College and her mum Nicole for their support.