By Nick Creely
A touch of sentiment shone over the Lindsay Hassett Pavilion on Saturday, as Casey-South Melbourne cemented its spot in the Victorian Premier Cricket finals on the same day the club celebrated their 10-year anniversary down at Casey Fields.
In what was always destined to be a special day for the rising club, the Swans annihilated Kingston Hawthorn with a ruthless edge to register their seventh victory in a row.
The Swans were sky-high on confidence after posting 7/356 last week, but knew the going would be tough against a solid batting opposition.
But Brendan Rose (5/37), the most in-form quick in the competition, took the first five wickets of the innings to shred the Hawks apart and kill any sort of life from the contest, and were eventually bowled out for 159.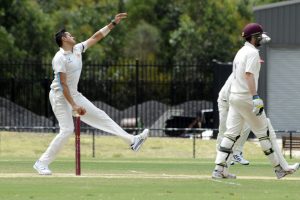 Rose now has 35 wickets (second in the competition), in what has been an extraordinary last four matches for the quick – in a consecutive four-game sequence, Rose has snared figures of 4/42, 5/75, 5/40, 3/11 and 5/37.
And his other bowlers, Nathan Lambden (1/34), Leigh Diston (2/26), Lachlan Sperling (1/14) and Jackson Fry (1/26) all combined in a powerful warning to their rivals.
The Swans then went back into bat for a further 20 overs, with Devin Pollock (48) and Jordan Wyatt (38) finding some valuable time at the crease before stumps were called.
Casey skipper Lachlan Sperling was full of praise for his bowling group, and said that in-form quick Brendan Rose bowled as good a spell as he's seen.
"It was a really good day – the bowlers did really well," he said.
"Brendan's new ball spell was absolutely amazing, you can just throw him the ball, he always gives it his all – the technical work he has done with Prabath is really starting to pay off."
With one game of the regular season to go against Prahran, Sperling said that the focus is on building their momentum into the finals and maintaining the belief that held them in good stead during their form slump before Christmas.
"I haven't thought about finals too much – we're focused on Prahran this week, they're a great side and have a lot to play for, that's our main focus – we will at some point sit down and see where we're at," he said.
"We just need to keep doing what we're doing – we can't flirt with form and we must stick to the same processes.
"Not much has changed from our point of view – we always had belief but it was a matter of performing – we have 11 blokes that all have the team's best interest at heart, and that's the biggest factor in us having a good run – if it's someone's turn to stand up they stand up, we're in a really good mindset – it's a great place to be."
Casey now sits fourth with a round to go, after sitting in the bottom-four only three weeks before Christmas.
Sperling was also named in the Casey-South Melbourne Team of the Decade during the club's celebrations that evening, an achievement he didn't see coming.
"I was really shocked to be honest – to be named alongside so many outstanding cricketers was a little bit overwhelming, but I'm pretty proud and it was a great night of celebration – hopefully there are many more years to come at this club," he said.
CASEY-SOUTH MELBOURNE TEAM OF THE DECADE
Jake Best – 73 matches, 1803 runs at 24.70
Robert Elston – 95 matches, 1688 runs at 19.86
Michael Hansen – 88 matches, 2450 runs at 27.53
Clive Rose – 107 matches, 1992 runs at 24.29, 168 wickets at 25.66
Damien Wright – 32 matches, 938 runs at 40.78, 32 wickets at 16.91
Craig Entwistle – 71 matches, 2102 runs at 32.34
Nathan Freitag – 38 matches, 629 runs at 28.59, 57 wickets at 24.00
Joel Leaver – 37 matches, 542 runs at 15.49
Lachlan Sperling – 68 matches, 1467 runs at 22.92, 25 wickets at 44.76
Jayde Herrick – 55 matches, 750 runs at 16.30, 115 wickets at 23.73
Ash Perera – 74 matches, 160 runs at 5.00, 103 wickets at 23.69
Matthew Hawking – 164 matches, 1018 runs at 10.60, 218 wickets at 28.47
Coach – Mark Ridgway